JuanHand Review: What do you know about Juanhand? In the past few years, more and more Filipinos have been borrowing money from Juanhand. This is thought to be a safe and reliable way to get a loan online. Juanhand will accept customer records in about 3 minutes, and customers can borrow money without a mortgage. Emergencies happen all the time, whether it's a last-minute field trip for your child or a quick car breakdown. You can try to figure out what will happen, but you can't stop it. And when you are taken off guard, stress is likely to take over.
Read the article below to find out more about this loan. Is the online loan app from Juan's Hand a scam? How much can you borrow from Juanhand? How much is the interest rate on the online loan app Juanhand? All of these questions will be answered in the next section.
What is JuanHand?
WeFund Lending Corp. runs JuanHand. They were moved by the fact that their fellow countrymen didn't have enough money to help them out. They started JuanHand because they wanted to make a place where people in need could get money quickly.
JuanHand is an online service that helps people who don't have access to banks get loans for their business ideas or to start their businesses. In the process, it also helps them find funders and business partners.
People will be able to use these services from anywhere with the help of mobile apps as fintech platforms grow and become more popular. JuanHand Loans is one of the most famous fintech platforms that helps people who need money quickly. It is known for how quickly it makes decisions and how clear its rates are.
What is the maximum credit limit in JuanHand and what is JuanHand

loan interest rate?
The minimum credit limit is 2,000. The maximum credit limit from JuanHand is 15,000. Like other apps, your first loan from Juan Hand will be small. But if you pay on time, you can get a bigger amount.
A JuanHand loan is the amount of money that suitable people who need cash quickly can borrow from the company. Clients can use the money from the loan for things like food, school, buying gadgets, rent, and emergencies.
The interest rate on a JuanHand loan is between 9% and 12%. Still, if you make your payments on time, your interest rate may go down.  The JuanHand loan time, on the other hand, can last up to 90 days, or three months. This gives you time to pay back the money you borrowed.
Is

JuanHand

legit?
Juanhand is a relatively new peer-to-peer lending app that allows people to get personal loans from individual lenders rather than banks or financial institutions. The app aims to provide a more affordable and accessible borrowing option by connecting borrowers directly with lenders. However, there are some concerns about the legitimacy and risks of using Juanhand:
As an unregulated platform, there is no oversight from financial authorities and minimal transparency around their operations and lending practices. This makes it hard to verify their claims or evaluate risks.
There are no guarantees or protections for lenders on Juanhand. If a borrower defaults, lenders have limited recourse to recover funds. This makes it a risky proposition for lenders.
Borrowers' personal and financial information may not be adequately protected or secured on the app. There are concerns about privacy and potential misuse of data.
Interest rates and loan terms are set by individual lenders and can vary widely. Some users have reported very high-interest rates and predatory lending practices.
While Juanhand promises more financial access and flexibility, users should be cautious of the risks involved until more regulations and safeguards are in place around such peer-to-peer lending apps. More reviews and due diligence are advised before trusting it for your borrowing or lending needs.
How can I get a loan in JuanHand?
Here are the steps you need to remember if you want to know how to apply for a JuanHand-online cash loan:
Get the JuanHand app on your phone from the Google Play Store.
Start the app enter your phone number and click Let's Go.
Figure 2: source; https://www.imoney.ph/articles/juanhand-app-guide (date accessed20 April 2023)
On the next page, you'll need to enter the proof code that was sent to your phone. Go to Sign Up.
Read JuanHand's Privacy Policy and Service Agreement and say that you agree to them.
Set your password.
Click Borrow Now on your home page.
Fill in the needed information on the next page.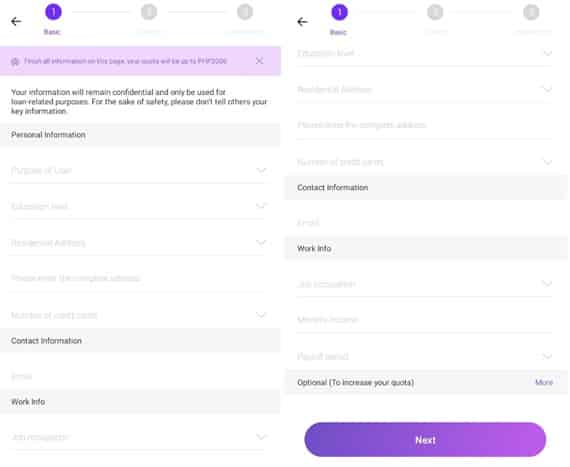 Undergo facial identification.
On the next page, provide your ID information. Also, you'll be asked to take a photo of your ID.
While you wait for Juan Hand to review your application, you can choose how you want to receive your money and set it up with JuanHand.
After Juan Hand looks at your account, your first credit limit will show up. If you're happy with the amount of money you can borrow at first, hit "Click to Get Cash."
Wait for the green light. If your application is accepted, the loan money will be put in your electronic bank. You can also take it out at a bank counter.
The interest rate on Juanhand
The most recent interest rate for loans in 2023 is 20% per year, which is much cheaper than other fast online loan support on the Web.
When you ask for a loan, the consultant will tell you to care about the interest rate and how much you will have to pay back. So you can be sure that this Juanhand loan service is a good one!
Maximum APR: 20%
Cost of Transaction: $0
Other fees: We will charge a one-time sign fee and a service fee (per transaction). Minimum 10%, Maximum 20%
How to calculate interest on a cash loan:
For example, if the loan is for 91 days the interest rate is 12% and the initial amount is $10,000, the total payment is $10,299.17.
Term of a cash loan to Juanhand
The length of a cash loan ranges from 91 days (including the shortest time to renew) to 180 days (including the longest time to renew).
What are the rules for a JuanHand loan?
The minimum requirements for a Juan Hand loan are easy to meet. It only asks that users do the following:
Filipino citizen
Between the ages of 20 and 60
Have a steady way to make money
Have at least one ID from the government
How to repay Juanhand's cash loan?
When getting loans, many people worry about when they are due and how much they will cost. But at Juanhand, it's different. Customers can check their account, the date it's due, and the amount they have to pay. You can easily check by "logging in" to Juanhand's account.
You need to know the following things:
Can pay off early, but interest will be charged.
If you don't pay on time or get too far remaining you won't be able to borrow money.
When you pay for something, please keep your ticket in case you need it.
When it's time to pay back the loan, you can do so in several ways. Just find the way that works best for you (7-Eleven, G-Cash, RD Pawnshop, M. Lhuillier), use the repayment code and a legal ID, and you'll be done.
You can also use online banks or over-the-counter transactions through the following institutions:
Metrobank
BPI
Unionbank
Paymaya
AUB
Bangko Mabuhay
China Bank Corporation
China Bank Savings
DCPay
EastWest Bank
Malayan Bank
Maybank
PNB
PSBank
RCBC
SCB
UCPB
Tip: It is recommended that you use the GCash app to pay for the loans because it is simple and efficient. You only need your personal account's repayment code and a valid photo ID.
You must repay your Juan Hand loans in to avoid incurring additional fees. The app constantly reminds you of your outstanding balance, so you never have to be concerned about forgetting to pay. In any case, if you have difficulty repaying the loan, you can contact their customer service.
JuanHand Customer Service and Help Center for Clients
Don't be afraid to contact Juan Hand through the customer service information below if you're having trouble with your loan, paying it back, or seeing your loan progress on the app.
Email: cs@juanhand.com
Numbers to Call: 0998-3740-824
You can also go to their office at WeFund Lending Corp, 16th floor, The Trade and Financial Tower, corner 7th Ave, Taguig, 1630 Metro Manila, Philippines. Their office is open Monday through Saturday from 9 am to 8 pm.
Overall Review of JuanHand
The JuanHand app has a rate of 4.2 on All the Best Loans, 2.7 on Facebook, 3.7 on Apple, and 4.3 on Google Playstore. Many people say that the people who work in their customer service office are very nice and know what to do with your loans.
Aside from that, the app is easy to use, your loan is approved quickly, and the fees for paying late aren't too bad.
FAQs
Q: Is JuanHand real?
Yes, JuanHand is a real business because it is licensed by the SEC, which stands for the Securities and Exchange Commission. The business is also listed and has a license. Even the Juan Hand app for mobile phones is described as being legal.
Q: Where can I find out how far along my loan application is?
By just following these steps:
If you sign in to your account, it's easy to see where your entry is in the process.
You can also call our CSR hotlines to find out where your application is at right now.
Q: Once I've paid back my loan, can I ask for an increased limit?
The amount changes based on your current credit score, so please keep making payments on time.
Q: How long does it take to get a JuanHand loan?
The process of giving a loan through JuanHand is pretty quick. Most of the time, applicants hear back within one to two days.
Q: What do I do if my application is rejected?
If your application has been rejected, Juan Hand will let you know through the app. In the notice, it says that you can ask for a loan again after a few days.
Faizan Ahmad is a financial analyst and writer who specializes in investments, banking, and corporate finance. He has over 7 years of experience working in the finance industry in various roles.
He leverages his strong financial modeling and data analysis skills to provide insightful commentary on business, markets, and economic trends.
At Ventures Money, Faizan covers topics including Credit Card Reviews, Loans, Insurance, and Mutual Funds in the banking sector. He provides in-depth analysis of the latest news and trends to help readers make smart investment decisions.
Outside of writing, Faizan enjoys following the stock market, rooting for his favorite sports teams, and spending time with his family.