Ventures Money is a financed-based website founded by Mustafa Al Mahmud in 2022. The site covers the latest articles on several topics related to Money, Stocks, Mutual Funds, Debit Card, Credit Cards
Man Behind Ventures Money
Mustafa Al Mahmud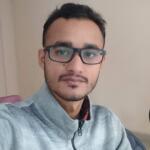 He is the founder and owner of Ventures Money, a leading finance and investment website. With over 10 years of experience in the finance industry, Mustafa is passionate about helping everyday investors make smart decisions with their money.
After getting a lot of experience, Mustafa worked at several top investment banks before deciding to launch this site. His goal was to create an approachable, jargon-free resource for investing advice and market analysis.
Under Mustafa's leadership, Ventures Money has become one of the most trusted sites for investment strategies, stock research, and personal finance tips. Every day, Mustafa and his team of finance experts work hard to break down complex financial topics into clear, actionable guidance.
When he's not busy running Ventures Money, Mustafa enjoys spending time with his family, staying active outdoors, and learning about the latest innovations in finance tech. He lives in India with his family including his wife and one child.