Want a loan for school, your business, your house, your property, or something else personal? Smart Coin is a technology-based platform that can help you make money. With Smart Coin, you can easily get a loan using just your cell phone, no matter where you are or what time it is.
About SMARTCOIN personal loan app
SmartCoin Financials Pvt. Ltd. is an app-based platform for lending money to consumers that was started in 2016. SmartCoin work with NBFCs that are registered with the RBI to give self-employed and salaried people instant personal loans. To help the many people in India who don't have bank accounts, SmartCoin is changing from a micro-lending platform to a full suite of services, such as gold savings, insurance, and more.
With SmartCoin, you can borrow anywhere from 1,000 to 70,000 for a period of 91 to 270 days at an interest rate between 20% and 36%.
Requirements or eligibility criteria
Smartcoin loans have different requirements for who can get them based on the borrower's credit score, income, employment status, and other factors. But here are a few general requirements to get a personal loan from Smartcoin:
Age: To get a loan from Smartcoin, the borrower must be between 21 and 60 years old.
Income: The borrower must have a steady way to make money. This could be a salary from a job, money from a business, or money from other regular sources.
Requirements for Employees: Employees must have a copy of their PAN card or passport, an address proof, a bank statement from the last three months, and a selfie photo.
Employment status: The borrower must have a stable job, either as a salaried worker or as a self-employed person.
Income requirements and total years in the job: How much you need to make depends on the loan amount and term.
Other conditions: Any person from India
How to get the SmartCoin app
Here are the steps you need to take to get the Smartcoin app:
On your Android device, open the Google Play Store.
Type "Smartcoin – Instant Personal Loan" into the search bar at the top of the screen.
Choose the Smartcoin app from the list of results from the search.
Click the "Install" button to start the process of setting up.
After downloading and installing the app, open it and finish the registration process.
Note that you can only get the Smartcoin app on the Google Play Store for Android devices right now. It is not currently available for iOS devices.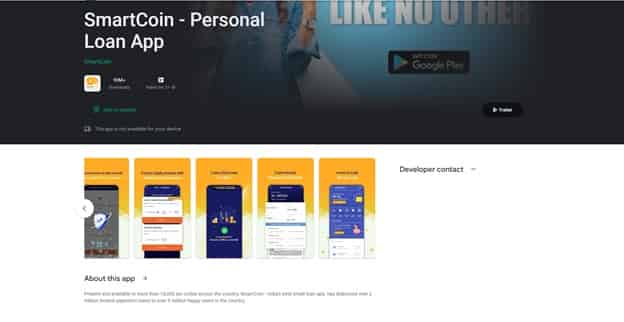 Also, please only download the Smartcoin app from the official Google Play Store to make sure you are getting a real version of the app.
Is smartcoin real or fake?
Smartcoin is a real app for personal loans that give loans to people who qualify. The Reserve Bank of India (RBI) has registered the company as a non-banking financial company (NBFC). This means that the company is allowed to offer financial services.
Smartcoin is on several social media sites, and the Google Play Store reviews are good. But, just like with any other financial product, it's important to read the loan's terms and conditions carefully before applying.
Before you use any kind of financial product or service, it's always a good idea to do your own research and due diligence. If you have questions or concerns about whether or not the Smart Coin app is real, you can get more information from their customer service team.
What is the smartcoin e-mandate?
Smartcoin e-mandate is a feature that lets people set up their bank accounts to automatically pay back loans. With e-mandate, borrowers can permit Smartcoin to automatically take the loan repayment amount from their bank account on the due date, so they don't have to do it themselves.
To set up an e-mandate, borrowers must link their bank account to their Smartcoin account and permit Smartcoin to automatically take money out of their bank account on the due date of their loan payment. Using the Smartcoin app, you can do this.
E-mandate can be a simple way to make sure loan payments are made on time and avoid late fees and other penalties. But it's important to make sure there are enough funds in the linked bank account on the due date so that the payment doesn't fail or get late.
How Do I Pay Back the Loan?
Smartcoin gives borrowers several easy ways to pay back their loans. Here's how you can pay back the amount of the loan:
E-Mandate
Smartcoin has a feature for loan repayment called "e-mandate." With this feature, you can tell the lender to take the loan repayment amount automatically from your bank account on the due date. This is a simple and easy way to pay back the loan because you don't have to remember to do it yourself.
Manual Payment
If you'd rather pay back your loan on your own, you can log into the Smart Coin app and choose the "Repay Loan" option. Then you can enter the amount you owe on the loan and pay using your bank account or UPI.
Overdraft Facility
Borrowers can also use Smartcoin's overdraft facility, which lets them pay back the loan in flexible installments at their own pace. You can take out the money as you need it, and you'll only have to pay interest on the amount you use.
Types of Loans Available On SmartCoin
SmartCoin gives people who qualify for instant personal loans. Here are the different kinds of loans you can get through SmartCoin:
Salary Advance: SmartCoin offers salary advance loans to salaried people who need money quickly for unplanned costs. Most of the time, these loans are given for up to 30 days and are meant to help fill the gap between paychecks.
Medical Loans: Smart Coin also helps people who need money for medical expenses like hospital stays, surgery, or other medical procedures by giving them medical loans. People have up to 3 months to pay back these loans.
Education Loans: Smart Coin also helps students who need money to pay for tuition or other school-related costs by giving them education loans. People have up to 6 months to pay back these loans.
Small Business Loans: SmartCoin also helps people who need money to start or grow a small business by giving them small business loans. You can pay back these loans for up to a year.
Travel Loans: SmartCoin also helps people who need money to pay for things like airfare, hotel reservations, and other travel-related costs by giving them loans. People have up to 6 months to pay back these loans.
Is SmartCoin approved by rbi?
Yes, the Reserve Bank of India has registered Smartcoin as a non-banking financial company (NBFC) (RBI). The RBI has given the company permission to offer financial services, such as personal loans, and will keep an eye on it.
The RBI is India's central bank, and it is in charge of regulating the country's banking and financial system. The smart coin is registered with the RBI as an NBFC, which means it has met certain requirements and is allowed to help people with their finances.
How to log out of the SmartCoin app?
Follow these steps to log out of the Smartcoin app:
Open Smartcoin on your phone or tablet.
Tap on the three horizontal lines in the top left corner of the screen. This is also called the "hamburger menu."
When the menu comes up, click "Settings."
Scroll down the Settings screen and tap "Logout."
You will be asked to confirm that you want to log out. Tap "Yes" to make sure.
Once you confirm, you will be logged out of the Smart Coin app and taken back to the screen where you can log in again.
Keep in mind that if you log out of the Smart Coin app, you will have to log back in the next time you want to use it. If you're worried about security or unauthorized access to your Smart Coin account, you should log out of the app when you're not using it. This is especially important if you're using a device that other people have access to.
Smartcoin app customer care number and email address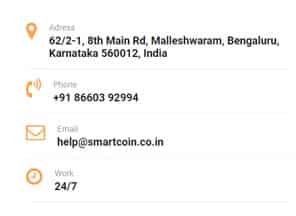 Questions that are often asked
Do I have to sign a paper contract with SmartCoin to get a loan?
Smart Coin is a credit that is all digital. With Smart Coin, you don't need any paper to apply for credit. You only need a smartphone and a way to connect to the internet.
What kinds of things can I use a SmartCoin loan for?
You can get a Smart Coin loan for domestic or international travel, weddings, the newest gadgets, college, buying a car, or even fixing up your house. This money can be used for anything.
How long will getting a loan take?
The application will be processed in a few minutes, and the money will be in your bank account in a few hours or at most 24 hours after that.
What should I do if I can't pay back my loan when it's due?
Send an email to help@smartcoin.co.in to get in touch with Smart Coin, and a worker will give you options. Don't wait too long to pay.
Conclusion
In the end, SmartCoin is a digital lending platform that gives eligible borrowers instant personal loans. It's a quick and easy way to get credit without having to fill out a lot of paperwork or put up a lot of collateral. Smart Coin has a variety of loan options to meet the needs of different borrowers, such as salary advances, medical loans, education loans, small business loans, and travel loans. Interest rates and other fees vary based on the amount of the loan and how long it takes to pay it back.
Smart Coin uses cutting-edge technology to figure out how good a borrower's credit is and then gives them loans based on that. Before accepting the loan offer, you should carefully read and understand the terms and conditions. This will help you make sure that you can pay back the loan on time and won't have to pay any extra fees or charges. Overall, SmartCoin can be a useful tool for people who need to get their hands on money quickly to meet their financial needs.