Money View is a leading financial technology company that provides Indian customers with a wide range of digital financial products and services. Money View's loan is one of its most popular products. It lets people get money quickly and easily for a variety of personal needs.
A personal loan from Money View can be a great choice for people who need money quickly for a variety of personal reasons. Money View makes it easy for people to get the money they need by offering low-interest rates, a variety of ways to pay back loans, and a simple application process. Before applying for a loan, you should always compare different loan products from different lenders and check their interest rates, fees, and eligibility requirements.
In this article, we'll talk about who can get a Money View personal loan, how much interest they charge, and how to apply for one.
Personal Loan Interest Rates and Charges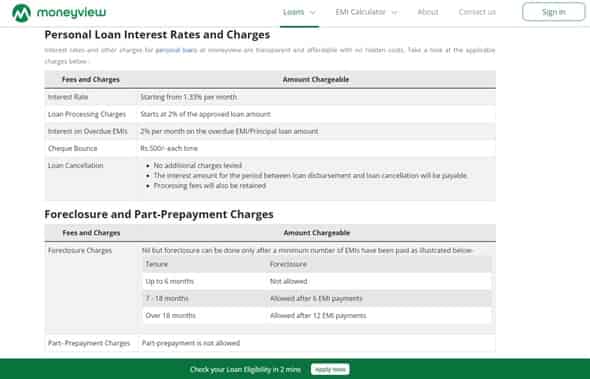 Top Features and Benefits of Personal Loan
The process to get a Personal Loan Online in India with Money View Loans App
Step 1: Launch the Money View Loans Program and begin the application process. Simply start the procedure by clicking the "Get Began" button.
Step 2: When downloading the Money View Loans App for the first time, you'll be prompted to grant the app authorization to access your location, contacts, and other information. Access to things like location data, SMS data, gadget information, etc., are examples of what might be considered "sensitive" data. The next step in the app's loan application procedure is for the user to enter their email address and mobile phone number.
Step 3: The user must enter fundamental information such as their job status (whether they are salaried, self-employed, etc.). When applying for unsecured credit, like a personal loan, having a steady salary is a plus. But that doesn't rule out personal loans for the self-employed. Aside from the nature of your job, other factors will be considered when deciding whether or not to grant you a loan.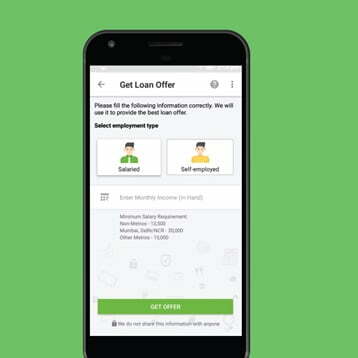 Step 4: The user's monthly salary is entered on the same screen as the loan amount is calculated. A higher salary means a greater and more manageable ability to repay the personal loan, so this will affect the size of the loan that is made available.
Step 5: The system will immediately compute the loan amount eligibility and show the same on the screen after both details have been entered. And so, a message like, "Congratulations!" will appear on the screen. A credit in the range of ___ to __________ is available to you.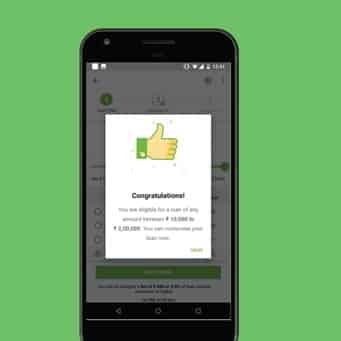 Step 6: A loan plan selector is presented to the user based on the loan amount criteria. The borrower can customize their credit by deciding on the loan term, EMI amount, and total loan amount. The loan's yearly interest rate (EMI) is based on two variables: the loan's term and the loan sum. In addition, any fees associated with processing the loan application will be presented on the mobile device's screen before the user applies.
So that the borrower can budget for loan installments, the app will also show when the first EMI is due. The app continues with the application routine without obscuring anything.
Step 7: Fill Out the Application the Money View Loans app will then prompt the user to input all the required information. The applicant's name, date of birth, address, employment details, loan purpose, Permanent Account Number (PAN), etc. will be collected in this stage so that a credit report can be requested. The user may also be asked to provide details such as a home or business location, as well as the names of their parents.
Step 8: After the aforementioned information has been entered, the app will prompt the user to upload identification papers and other KYC-related information. The app may request access to the camera so the user can submit a copy of their Aadhaar card or PAN card as identification, or the user can take a photo of their card as they fill out the application.
The next step is for the user to provide a location verification document. Acceptable documents include a passport, driver's license, utility, phone, postpaid mobile phone, gas bill, voter registration card, or ration card. For how long the user plans to remain at the location is verified, the app will also request this information. The app then requests an applicant's portrait and video, with the user's express consent to include the image on the loan paperwork. The footage must be filmed while holding the PAN card.
Step 9: Authenticate your bank details the next step is for the user to input their banking information so that the app can verify their account and transfer the loan funds there. If you are a salaried person, the app will try to deposit the loan amount into your salary account. The user must upload a copy of their most recent bank statement showing direct deposits into their salary account so that the verification procedure can take place.
If the user doesn't have access to their bank statement at this time, they can skip this process and send it in via email later. Note, however, that the Money View Loans staff won't get to work on your loan until they receive your statement.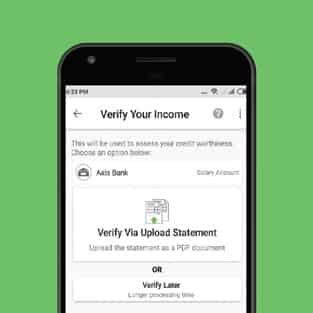 Step 10: At this point, your application has been fully inputted, and the app will show you a summary of everything you've entered. If there is a discount on the transaction fee, the user can input a promotional code.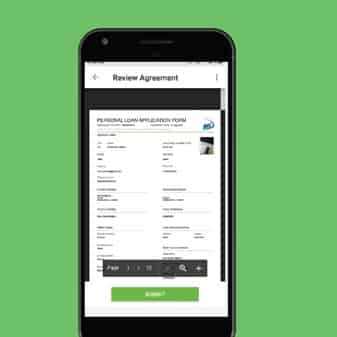 Step 11: The app requests a One-Time Password after the user confirms the mobile number during registration submission (OTP). After the application has been checked out and approved, the user is provided the chance to rate the submission procedure.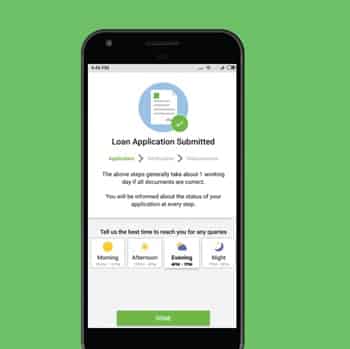 Step 12: It usually takes one business day to process a loan application if everything is in order with the Money View Loans staff and they have access to all the necessary documentation. When everything looks good to go, the app will alert the user so they can look over the contract. The borrower's bank account is credited with the loan amount within 2 hours after the agreement is reviewed and authorized.
The method is easy to understand and implement. Obtaining a personal loan online in India couldn't be easier than with the help of Money View Loans. Follow the above measures to keep your personal loan options open and your credit score in good standing.
How to Sign in to Money View:
Step 1: Go to the website for Money View or open the Money View app on your phone.
Step 2: In the top right corner of the homepage, click the "Login" button.
Step 3: To get into your Money View account, enter your registered phone number and password.
If you can't remember your password, click the "Forgot Password?" link and follow the steps to reset it.
You can contact their customer service team through their website or app if you have any problems with your loan application or Money View account. They will be glad to help you with any questions or worries you have.
Real or fake: money view loan
Money View is a real financial technology company that offers personal loans, credit score tracking, and tools for managing your budget, among other digital financial products and services, to people in India. The Reserve Bank of India (RBI) has registered the company as an
NBFC-P2P (Non-Banking Financial Company—Peer-to-Peer Lending). The company is also a member of the Credit Information Bureau of India (CIBIL).
But there have been times when scammers have pretended to be from Money View and used the company's name to trick people. So, it's important to be careful and make sure that any loan offers or communications you get from Money View are real.
Here are some ways to tell if a loan offer from Money View is real or not:
Check the website of the company: Make sure that the loan offer you get comes from the official Money View website. Fraudsters may try to trick people by making fake websites that look like the real ones.
Check the contact information: Check the loan offer for the email address, phone number, and physical address. Contact Money View's customer service to make sure that the information in the offer is correct.
Don't pay upfront fees: Legitimate lenders, like Money View, won't ask you to pay fees or charges upfront before giving you a loan. If you get an offer for a loan that says you have to pay something first, it's probably a scam.
Check the rates and terms of the loan: Check that the loan offer has the same interest rates and terms for paying back the loan as what is advertised on the Money View website or app. If they are very different from each other, that's a red flag.
Money View is a real financial technology company that helps Indian people get personal loans and other financial products. But it's important to be careful and make sure that any loan offers or messages you get from Money View or any other lender are real.
Money view loan customer care
If you have questions or concerns about your loan or account with Money View, you can get in touch with their customer service team through the following ways:
Email: You can send your question or problem to hello@moneyview.in, and the customer service team will get back to you as soon as they can.
Phone: You can call Money View's customer service team at 080-45692002 from 9:30 AM to 6:30 PM, Monday through Saturday. Please keep in mind that this number is not free, and you may have to pay to call it.
Chat: The Money View app also lets you chat with a customer service representative. Open the app, go to "Help & Support," and click on "Chat with us."
Money View lets people pay back loans in the following ways:
UPI: You can pay off a loan with any mobile payment app that works with UPI. To finish the payment, just choose UPI and enter your UPI ID or virtual payment address (VPA).
Net banking: You can use your bank's online banking service to pay back a loan. Choose the "net banking" option and then choose your bank from the list. Sign in to your online banking account and follow the instructions to make the payment.
Debit or credit card: You can pay off a loan with a Visa, Mastercard, or RuPay debit or credit card. To finish the payment, choose the "card payment" option and enter your card number, expiration date, CVV, and billing address.
Please be aware that Money View may charge a convenience fee for some ways of paying, like using a credit card. Also, make sure you pay back your loan on or before the due date to avoid late fees and other penalties.
How to money view loan status check
You can easily check the status of your Money View loan application or loan account through the following steps:
Open the Money View app on your mobile device or visit their website.
Log in to your account using your registered mobile number and password.
Go to the "Loan" section to view your loan details and status.
If you have applied for a new loan, you can check the status of your application by clicking on "Application Status" or "My Applications" and entering your application ID or reference number.
If you have an existing loan account, you can view your loan status, repayment schedule, outstanding balance, and other details by clicking on "My Loan Account" or "Loan Details."
Alternatively, you can also contact the Money View customer care team through email, phone, chat, or social media and request an update on your loan status. Make sure to provide your loan account number or registered mobile number for verification purposes.
How to close money view loan
To pay off your Money View personal loan, you must do the following:
Check your outstanding balance: Sign in to your Money View account on the website or app to see how much you still owe on your loans.
Calculate the prepayment amount: If you want to pay off the loan early, add up any outstanding principal and interest charges as of the date of prepayment. This will give you the prepayment amount.
Contact customer service: You can call or email the Money View customer service team to let them know you want to close the loan. They will give you all the information and paperwork you need to pay in advance.
Make the prepayment: Make the prepayment by transferring the prepayment amount to the designated bank account or by using any other payment method Money View specifies.
Get the NOC and loan closure certificate: Once the prepayment has been made, ask Money View for a No Objection Certificate (NOC) and a loan closure certificate. These papers are needed to prove that the loan has been paid off and to keep legal or financial problems from happening in the future.
Money View may charge a prepayment penalty if the loan is paid off before the end of the term. You can check the prepayment fees and other fees on the Money View website, or app, or by calling the customer service team. You should only pay off the loan early if you have enough money and have thought about how it will affect your cash flow.
The pros and cons of Money View personal loan:
| | |
| --- | --- |
| Pros | Cons |
| The quick and easy application process | High-interest rates |
| No collateral or guarantor required | Prepayment and foreclosure charges |
| Flexible repayment tenure | Limited maximum loan amount |
| Minimal documentation requirements | Eligibility criteria may not be suitable for everyone |
| No hidden charges or fees | No physical branch network |
| Loan disbursement within 24 hours of approval | Limited customer care support hours |
| Can be used for various purposes like travel, education | Limited loan options (only personal loan available) |
| or medical emergencies | Negative reviews and complaints about customer experience |
It is important to weigh the pros and cons carefully before applying for a Money View personal loan or any other loan. Consider factors like interest rates, loan amount, tenure, repayment capacity, and eligibility criteria before making a decision.
FAQs
Do I need to pay a fee to process the loan? How much will they charge?
Yes, there is a small processing fee that starts at 2% of the amount you borrow. The amount is set by our system based on several factors. It will be taken out of your loan amount, and the rest will be sent to your bank account.
680 is my Experian score. Can I still use Money view to get an instant loan?
Ans: Yes, you can. Money view has its unique algorithm for processing loan applications, so even people with lower credit scores can get personal loans from them. But you must have a CIBIL score of at least 600 or an Experian score of at least 650.
What is a low rate of interest?
A low-interest-rate environment is one in which the risk-free rate of interest, which is usually set by a central bank, has been below the historical average for a long time.
What do you need to do to get a Money View personal loan?
For a Money View personal loan, you must meet the following requirements:
Between 21 and 57 years old
Minimum monthly income of Rs. 13,500 for salaried people and Rs. 20,000 for those who work for themselves
An Indian citizen with a credit score of at least 650
Indian resident with valid identity and address proof
How much money can Money View lend me?
Money View gives loans from Rs. 10,000 to Rs. 5 lakhs. The amount you can borrow depends on your income, credit score, and other factors.
How Often Does Interest on a Bank Loan Come Due?
Since EMIs are paid every month, the interest rate will also be figured out every month. So, if the rate of interest is 10%, you need to divide it by 12. Also, the length of time will be the number of months. With a 20-year loan, the term is 20 times 12 months or 240 months.
Conclusion
In conclusion, Money View is an online lending platform that helps people get personal loans quickly and easily for many different reasons. It has many advantages, such as a simple application process, no need for collateral or a guarantor, flexible repayment terms, few paperwork requirements, and quick loan disbursement. But it has some problems, like high-interest rates, fees for prepayment and foreclosure, a small maximum loan amount, eligibility requirements that may not work for everyone, and bad reviews about how customers were treated.
Before applying for a Money View personal loan or any other loan, it's important to think about the pros and cons and read the terms and conditions. It is also a good idea to look at different loan options and pick the one that fits your financial needs and ability to pay back the loan the best.